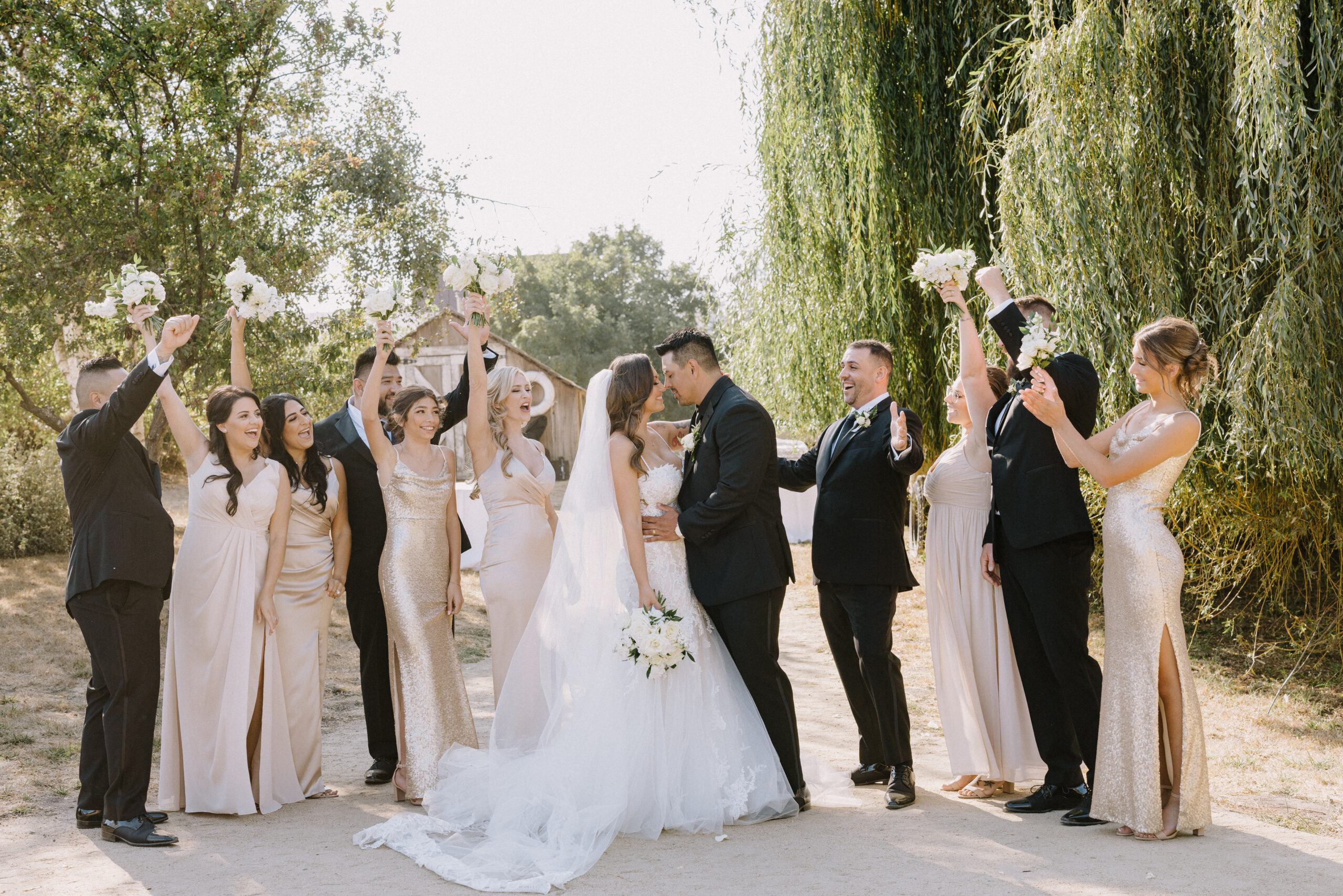 Weddings, Special Events, & Workshops
Planning a wedding, bridal or baby shower? In need of exquisite centerpieces for an upcoming dinner party or corporate event? Look no further. Ellabee Flowers has got you covered. We also offer workshops for those seeking a creative experience. Get started with your complimentary consultation today by clicking the Consultation Form Button. Let us bring your vision to life and create unforgettable floral arrangements for your special occasion.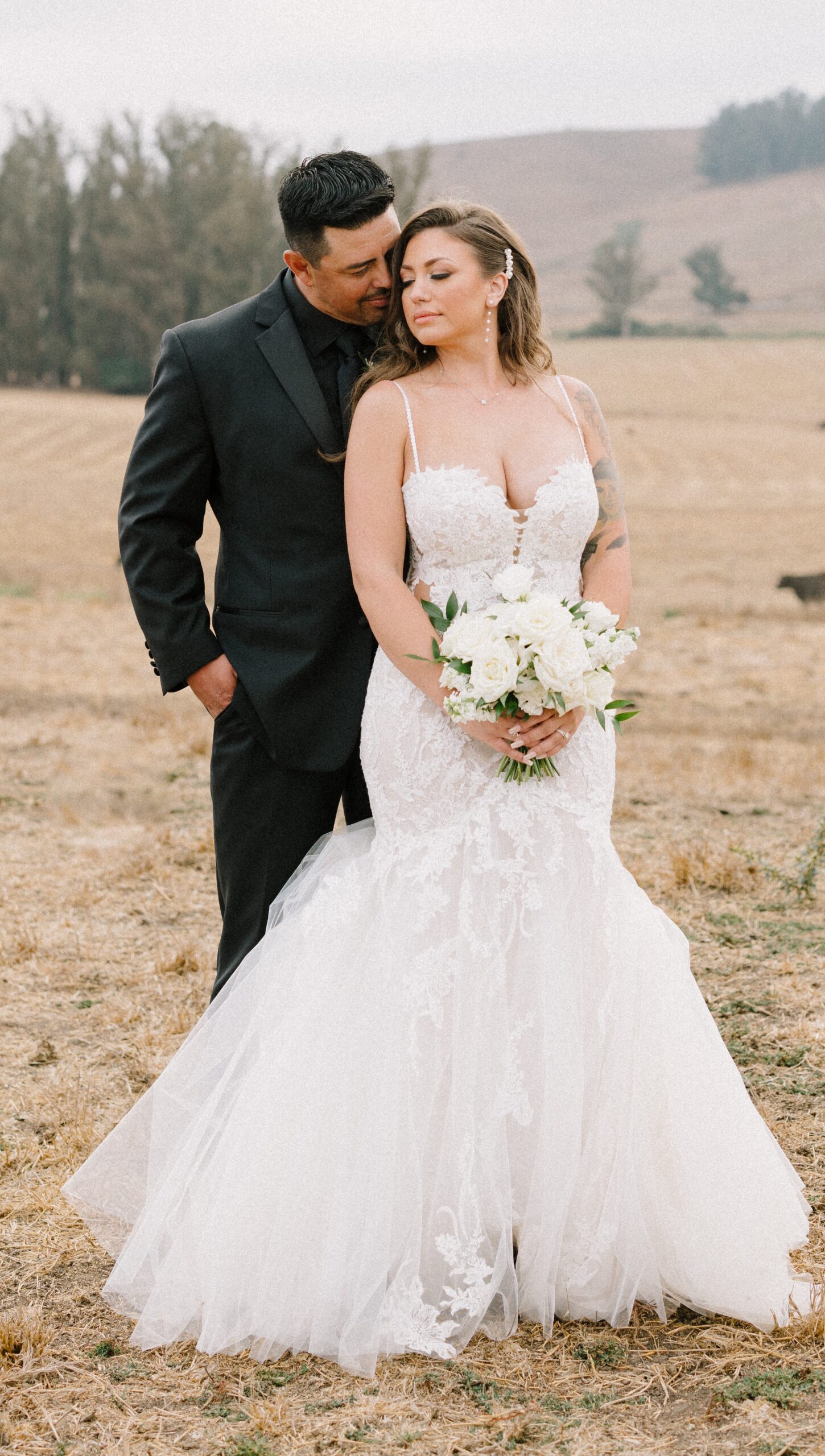 It's an honor to be a part of your Special Day
To explore our gallery, simply click on the cover photo of the event(s) displayed below.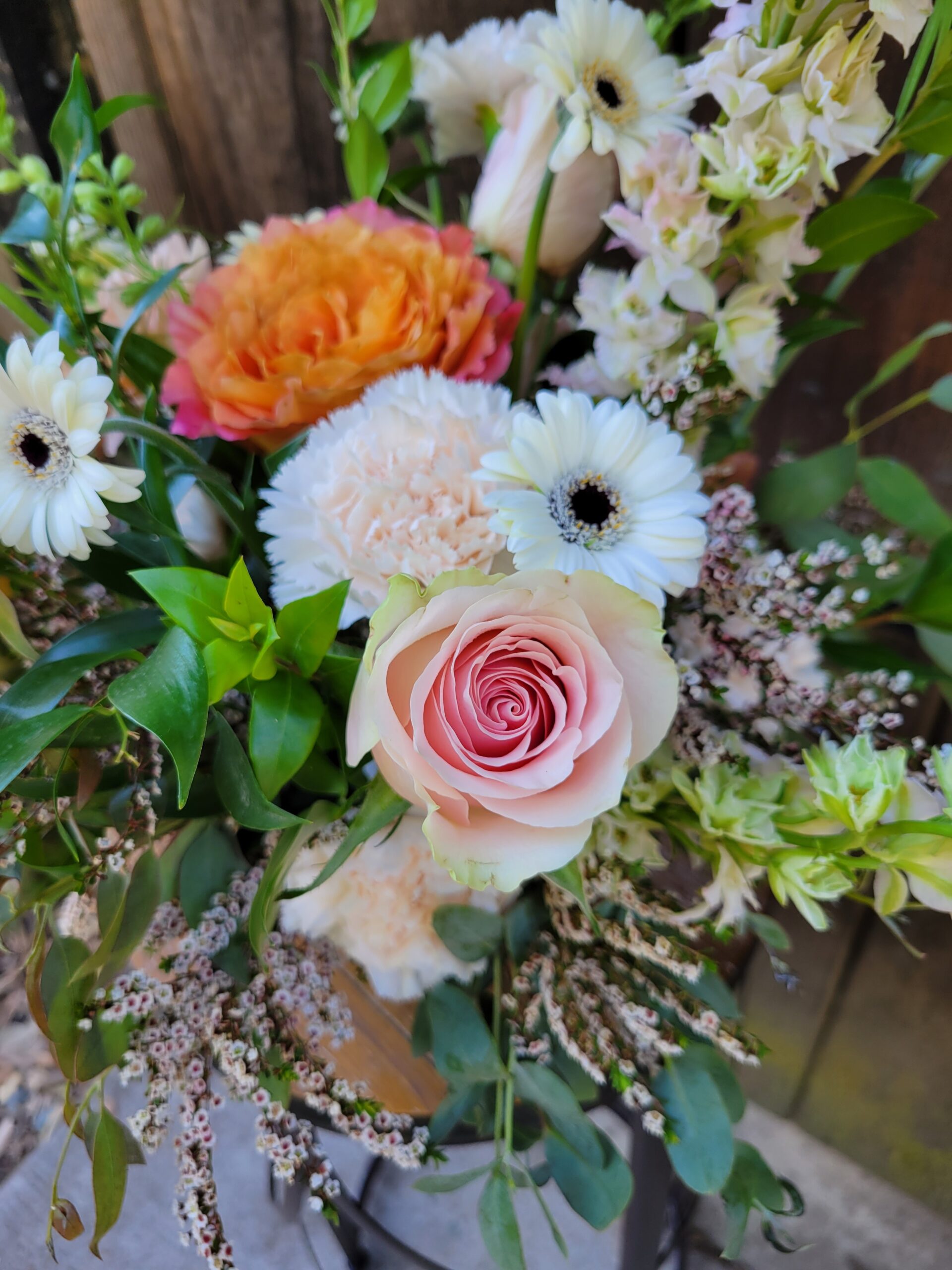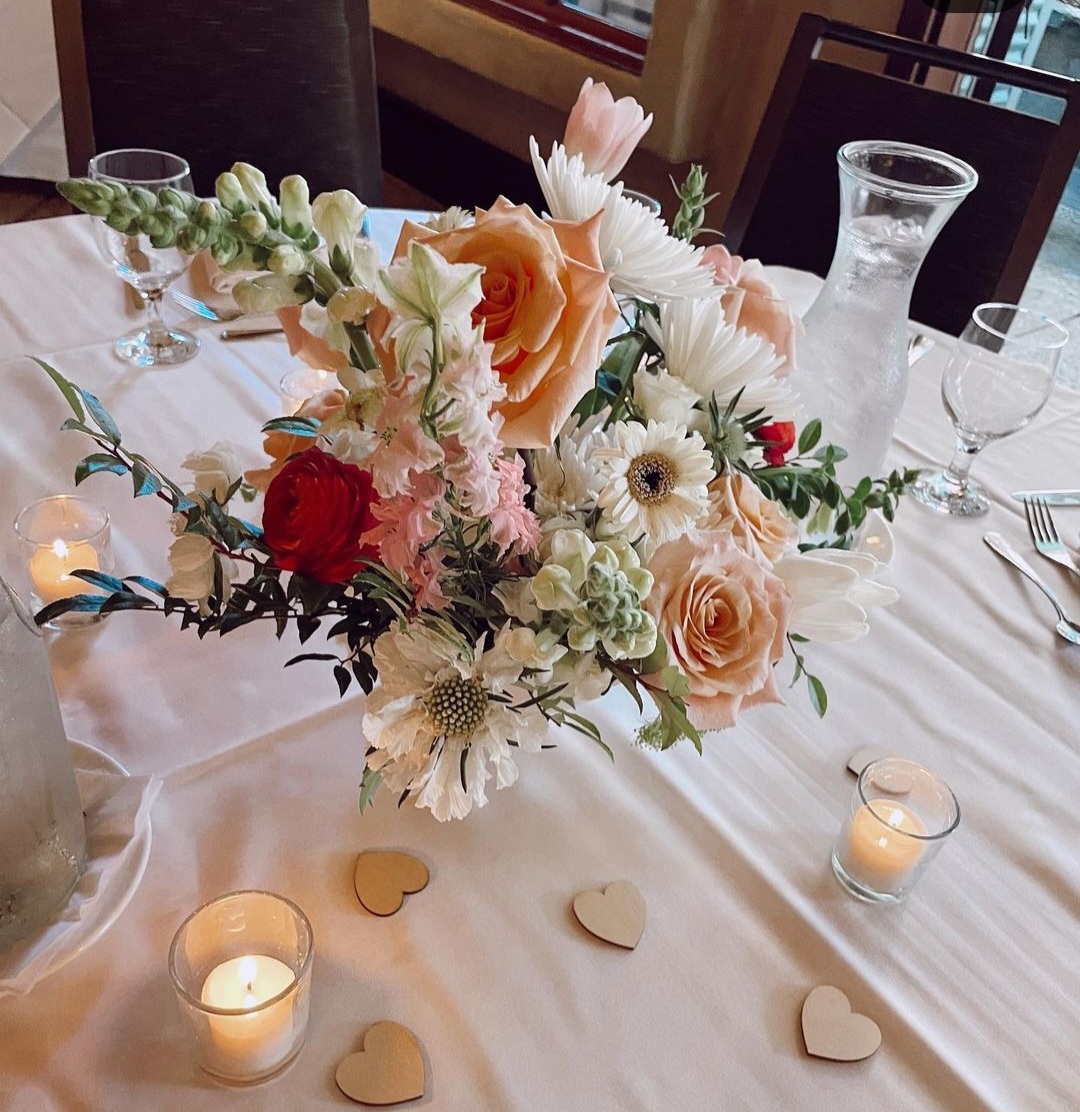 Thank you again.  Everything was beautiful and received many compliments.
DeeAnn
Angella has outdone herself again! I am a repeat customer for a reason. I am always in awe at the items created for me with such little direction needed. This latest purchase was by far my favorite as they accompanied me as I married my best friend. The day was perfect, the flowers were perfect and I am still so excited with my bridal bouquet!!
Stephanie
YOU WERE INCREDIBLE THANK YOU AGAIN!! 🤍
Jenni
Thank you so much for everything you did.  We loved having you be a part of the wedding and everything looked amazing.  You are awesome !!
Adam
Adam & Hunter's wedding couldn't have been more perfect.  Your flowers and arrangements were a hit.  People loved the pool arrangements…asking if they were motorized.  🙂  Thank you again so very much !!
Sheri
I cannot thank you enough for your beautiful work.  Everything you did was breath taking and we received so many compliments on the flowers !!
Hunter
The shower was beautiful, and the flowers were perfect.  We received many compliments!
DeeAnn
Very nice arrangement.  Thank you for everything.
Mike
I love love love, the arrangmenet you made for my Aunt.  Thank you so very much for personally delivering too !!
Jackie
My Goodness, the arrangement Angella made for my Aunt was absolutely beautiful !!
Karen
Angella was absolutely the best.  She went above and beyond and our day was just perfect thanks to her!!
Gabrielle
I am absolutely in love with my Lantern. Angella does such an amazing job! l ordered from her last year as well and knew I would be thrilled when it arrived. She is so kind and went above and beyond with making a 2nd latern that would match my swag from last year. She did not need to do that but did! Not many people would have given me the option to choose! I will continue to purchase from her small business!! ❤❤
Marcia
I had the pleasure of working with Angella for my July 2022 wedding and it was exactly that, a pleasure! It would be an understatement if I said she went above and beyond because she did so much more than than I ever expected. She worked with my budget and never made me feel uncomfortable for it. She was creative and had great vision for the flowers I wanted. She beautiful pulled together my vision. 
Not only that she was the calming voice I needed during a stressful time. She would periodically check in and see if there was anything I needed. She did a beautiful set up and she even came to the rescue with breakdown. Highly recommend her to any brides or anyone in need of beautiful arrangements!
Laura
Gorgeous beyond belief, and much larger than I anticipated!! I could not love it more if I tried…and a gnome to tie it all together, I am just so in love this piece!!!
Stephanie
I am absolutely in love!!
Marcia
This piece is stunning.!
Mary
Great addition to the Gingerbread lantern. Love the ladder. Fills a perfect place together. I am running out of room, but I keep finding so many FABULOUS items here!!! Excellent Everything!!!!!!!
This wreath is beautiful!! So happy with it and have received tons of compliments!
Patricia
This wreath is beautiful!! So happy with it and have received tons of compliments!
Brooke
You are so talented.  Everyone loved the arrangements.  Thank you !!
Janice
I have Ella Bee Flowers made arrangements for my baby shower a few weeks ago. I couldn't have been happier. My theme was apple of my eye and she captured it perfectly!
Kamille Howard
The florals were so gorgeous.  Thank you !!
Catie Salvador
"Thank you" is the understatement of the year.  Ethan and I are so appreciative of your hardwork and dedication to our "vision" on our BIG DAY.  I would not have been able to plan, prep nor execute our wedding without you.  Many thanks and so much love. 
Ethan and Kendall Kirby
Thank you so much for this beautiful video and your photos. Thank you for being such a special part of this beautiful wedding. Everything was perfect to the key. We totally appreciate you. Thank you.
Donetta Sergeeff
Beautiful wedding with flowers by ellabeeflowers .. She's the best 🥂
Barbara Rae Olson

Absolutely gorgeous!!! What a special wedding
Every detail to perfection
KR Merrill
Thank you EllaBee Flowers! The floral arrangements were so perfect! It was everything I imagined.
Caitlin
We were so incredibly happy with the flowers.  The bridal party table was beyond amazing.
Cassie
Thank you for the most beautiful florals! They were STUNNING 😍
I purchased for my daughters Mother's Day Arrangements and they were just lovely.  Even days after, the flowers were just as beautiful as when I picked them up, Thank you !! 
Janice
They were perfect!! 😍
Cami
Thank you so much for everything.  Our special day was made possible because of you. Everything was absolutely perfect.
Vanessa
I am still in awe of everything you did for my mom's Celebration of Life.  It was perfect in everyway.
Colleen
Aww thank YOU for everything and for all your beautiful floral designs. You did such a wonderful job tying in all the colors. I was beyond happy and in love with everything you did. It was just perfect 🥰❤️
Amanda, oh my gosh!! I am absolutely 100% blown away how beautiful last night was! you are freaking incredible!! I was completely calm and cool all day, didn't shed a tear until we walked in and I saw the flowers and I absolutely lost it. everything was everything I could've ever imagined and so much more. the arch, the center pieces, our table, the bouquets, holy crap. thank you, thank you, thank you!!!!
Aww thank YOU for everything and for all your beautiful floral designs. You did such a wonderful job tying in all the colors. I was beyond happy and in love with everything you did. It was just perfect 🥰❤️
Ella Bee Flowers is 5 stars and 2 thumbs up! I got married in 2020 and poor Amanda was a gem throughout the whole crazy process. We changed the date, then the venue and about 100 details in between. In the end it all turned out so amazing. Amanda made our small backyard wedding look incredibly elegant and formal. The flowers were everything that I wanted and I'm still drooling over all the photos. I had a rough idea of what I wanted and Amanda fully brought it to life.
She had the amazing idea to transition our arch (which was breathtaking) into a backdrop for our sweetheart table. My bouquet was so gorgeous I never wanted to put it down. I can't say enough how thankful I am to have worked with Amanda. 2020 is still knee deep in chaos but I'm so grateful to have married my Prince Charming and I am forever thankful to Amanda for making the day so beautiful and grand.
Hi, there thanks so much for the flowers they were stunning, especially Jess's bouquet I keep on getting compliments on how beautiful the flowers were.
Amanda!!! The flowers are absolutely a vision. You are so talented and it was everything that I dreamed of and actually even better than the inspo picture!!!! I can't imagine how much work you put into theese with all the rare dahlias and giant peonies they are absolutely incredible and I am so thankful 💕💕💕💕🌸 You KILLED it!! 😍😍😍😍😍😍😍😍😍😍 I wish you could do my wedding!